Diferencias entre QA y QC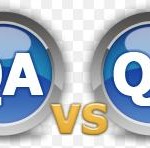 Este artículo bajo el título "Diferencias entre aseguramiento de la calidad y control de la calidad I", lo recibí a través del newsletter de jummp (Recomiendo que se suscriban).
El término aseguramiento de la calidad se ha extendido a tareas de prevención en el momento en que se está desarrollando (detección de defectos, adecuado seguimiento de un proceso y/o una metodología) y a las tareas que se realizan una vez que se entrega una determinada versión de un producto o de un artefacto (que puede ser un determinado documento exigido por el proceso de desarrollo).

Y es que aseguramiento de la calidad (QA) vende más que control de la calidad (QC), porque asegurar resulta más rotundo que controlar.

El aseguramiento de la calidad está orientado a la prevención, pretende ser, por tanto, proactivo, lo que requiere que sea una parte más dentro del proyecto y suele centrarse en aspectos relacionados con el proceso de desarrollo y testing.

El hecho de que se considere que el QA está orientado al proceso, en mi opinión, ha restado efectividad a su aplicación porque el producto nunca debe quedar en segundo plano y en el momento en que se transmite el mensaje (aún con la mejor de las intenciones) de que la calidad está en el proceso empieza a interpretarse por los responsables del QA de que lo valioso es el procedimiento y que si se sigue probablemente el proyecto tenga éxito.

Curiosamente si se falla, será culpa de las personas por no haber seguido adecuadamente el proceso. Este doble rasero: las personas son secundarias porque quien asegura la calidad es el proceso, pero si todo falla los culpables son las personas, no lleva a nada bueno porque crea una espiral que irá separando a los equipos de desarrollos de los encargados del QA y que por regla general, si no se corta, agudizará el problema porque la respuesta del QA será hacer todavía más rígidos los procesos, hacer más severos los controles y si se siguen sin conseguir objetivos seguirá siendo culpa de las personas y así hasta el infinito.
Cierto es que hoy en día todavía hay empresas y/o personas que entienden/asocian al Software Testing con QA, ¿Cuánto tiempo llevará hacerles entender que no es así? ¿Cuánto tiempo deberemos anunciarnos a la puerta y decir que no somos QA? Aunque podemos serlo, por supuesto, dependiendo del skill y las ganas que tenga cada uno de nosotros, además de su experiencia.
Según definición: ISO 9000 Definitions
• Quality Control
– The operational techniques and activities that are used to fulfill requirements for quality.
• Quality Assurance
– All those planned and systematic activities implemented to provide adequate confidence that an entity will fulfill requirements for quality.
QC vs QA
Producto -> Proceso
Reactivo -> Proactivo
Encontrar Defectos -> Prevenir Defectos
QC vs QA – Ejemplos
Walkthrough -> Auditoría de Calidad
Testing -> Definición de Procesos
Inspección -> Selección de Herramientas
Revisión de Puntos de Control -> Entrenamiento
Fuente de inspiración: JUMMP
Leave a Reply