ISTQB Advanced Level – Una página en Facebook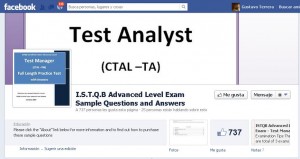 Me topé con esta página en Facebook y me pareció interesante tenerla en cuenta como referencia ya que contiene preguntas, respuestas, enlaces, además -por supuesto- de un párrafo promocionando material a la venta por parte de su autor.
We are glad to announce that "ISTQB Advanced Level – Test Manager Practice Test booklet" is now available on Amazon.com.
http://www.amazon.com/gp/product/B00AXBGWGM
No PayPal account is needed to purchase items from amazon.com
Algunas de las preguntas que se han publicado son las siguientes:
_______
What is the correct answer?
All of the following statements are true about decision tables, EXCEPT;
A. A decision table shows actions of the system based on certain combinations of input conditions
B. Creating a decision table is a great way to see the overall picture of the system and identify holes in requirements
C. Decision table should contain one row for each condition and one row for each action
D. 100% test coverage can be achieved easily using decision table technique
_______
What is the correct answer?
Test team identified a possible risk during requirements review of the Functional Requirement Document. The risk was analyzed and the probability of the risk happening is 1% and impact of the risk if it occurs is $200,000. What is the cost of exposure?
A. $500
B. $ 2,000
C. $ 200,000
D. $ 20,000
_______
What is the correct answer?
Consider the following perl statement. How many test cases are required at a minimum for condition coverage?
$type = $blue || $red
A. 1
B. 2
C. 3
D. 4
El acceso a la página es: https://es-es.facebook.com/ISTQB.CTAL.QA
Leave a Reply