Bstriker como uno de los sponsors en Dutch Testing Day 2015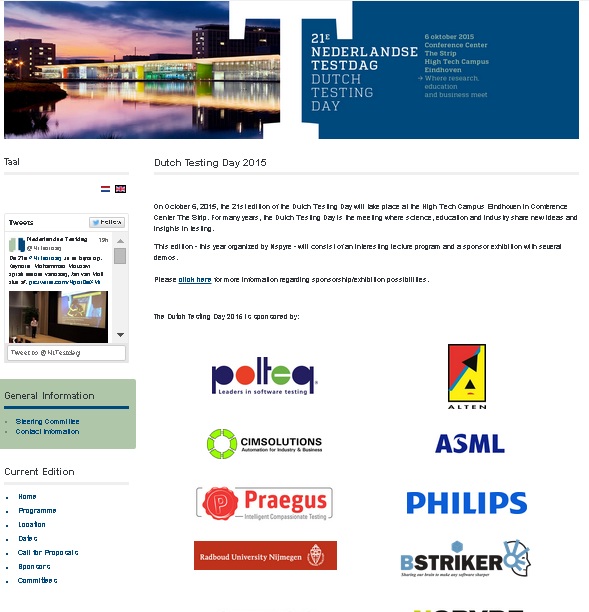 Bstriker es uno de los sponsors en este evento a nivel mundial, y eso confirma más aún la presencia que esta teniendo la herramienta en el mercado.
Hoy justamente estaba cruzando palabra con Sergio Cusmai, CEO de la compañía y me dijo que prontito me estará contando detalles del evento que por supuesto lo estaremos publicando aquí para que Uds estén al tanto.
Aquí les dejo el Programa como para que vayan viendo en qué se está trabajando y cuáles son las tendencias en nuestra actividad.
Programa del Dutch Testing Day 2015
Risk based test strategy in a medical device industry
Trends in testautomatisering
Specification by Example, A must for Continuous Integration
A Sound and Complete Framework for Testing Probabilistic Systems
Quality Street – or how the fancy becomes mundane
Useful stepping-stones in growth towards Agile testing
Just 'Google' for flaws
Model-Based Testing for Web Applications: From Specialized Crawlers to Generic Models
Accelerating into an uncharted area
IoT needs IoT
No Test Without Integration
Applying Automata Learning to Embedded Control Software
Heisenbug hunting from the tranches
Agile testing: An organizational mind shift
How we increased efficiency in unit test automation
Model checking on inferred TCP-models
Finally… Reliable Software!
Analyzing Critical SW Product Failures – Houston We Have A Problem
¿Quieres conocer algún detalle en particular sobre el evento o sobre la herramienta?
¿Necesitas una herramienta que te permita gestionar el testing manual y automatizado?
Contáctanos
Leave a Reply