uTest – Proyectos Activos y Actualizaciones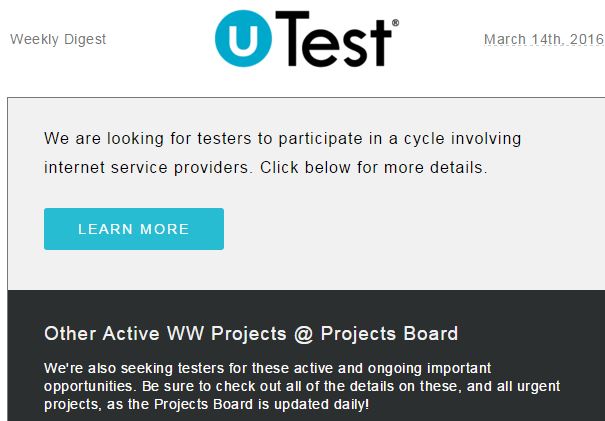 uTest – Proyectos Activos
Paid Exploratory Test
uTest Update – 8 Tips for QA Beginners
Quick Project for Testers in Paraguay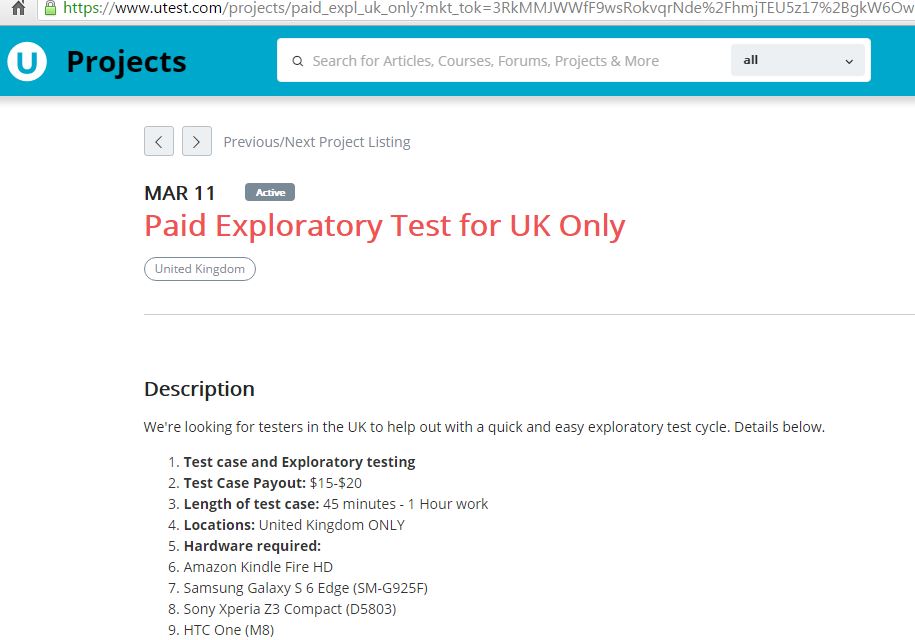 Respecto al primer proyecto: Paid Exploratory Test
sólo a modo de referencia como para ir sabiendo el alcance de los requerimientos, dejo aquí los datos principales del mismo
Description
We're looking for testers in the UK (United Kingdom) to help out with a quick and easy exploratory test cycle. Details below.
Test case and Exploratory testing
Test Case Payout: $15-$20
Length of test case: 45 minutes – 1 Hour work
Locations: United Kingdom ONLY
Hardware required:
Amazon Kindle Fire HD
Samsung Galaxy S 6 Edge (SM-G925F)
Sony Xperia Z3 Compact (D5803)
HTC One (M8)
Looking to start cycle today or tomorrow at latest.
Nota: lamentablemente sólo es para UK
Análisis del requerimiento:
Es necesario contar con un cierto tipo de hardware para proponernos como Tester para este proyecto.
Considerar el pago y su forma, ya que para este proyecto es por caso de prueba.
Importante, y no menor, tener en cuenta la duración del caso de prueba.
No hay que dejar de leer los Comentarios, ya que alguno de ellos nos pueden dar cuenta del estado de situación y framework de otros Testers que quieren proponerse para el proyecto y ven una limitación para cubrir esta parte del requerimiento. A continuación, algunos ejemplos:
I have an Amazon Kindle Fire, but it is not an HD version (it's 1024 x 600). Is this sufficient? If so, then sign me up. (Robert Newman Mar 11, 2016)
I have a Samsung Galaxy Prime (SM-G530H). Can this device be used? (Karthick Lakshmi Subramanian Mar 11, 2016)
Usually only the exact devices can be used as they are the ones requested by the customer. (John Schultz yesterday)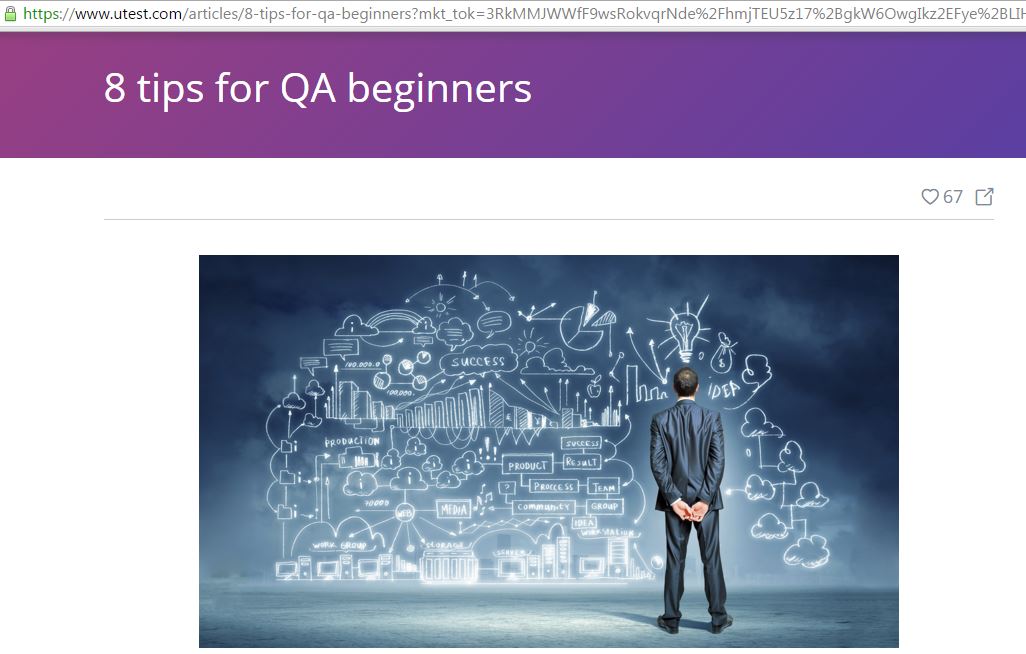 Respecto de la actualización: uTest Update – 8 Tips for QA Beginners
1. No considere su futura profesión como una ocupación brillante
2. No trate de aprender todo a la vez
3. No dude en crear un plan
4. No evite las pruebas exploratorias
5. No tenga miedo de hacer preguntas
6. No abandone la lectura
7. No niegue la automatización
8. No se detenga y se rinda
por supuesto que cada uno de estos puntos tiene su correspondiente detalle.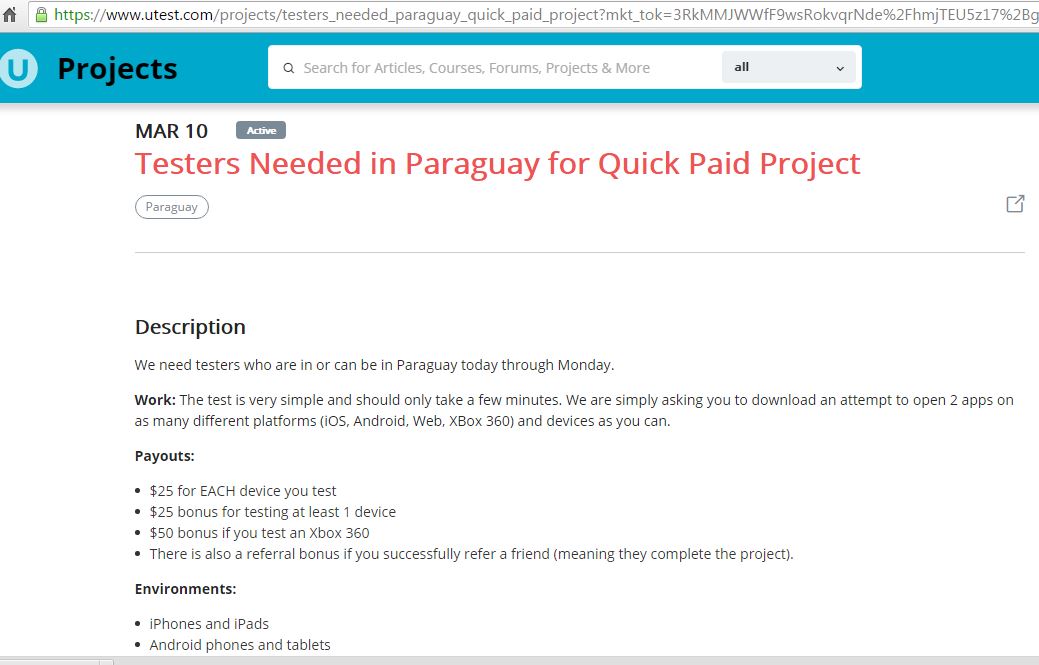 Respecto del sig proyecto: Quick Project for Testers in Paraguay
En este caso, el alcance pareciera ser bastante sencillo.
Descargar y abrir 2 aplicaciones en las siguientes plataformas (iOS, Android, Web, XBox 360) y en tantos dispositivos como sea posible.
Para este caso, vendría muy bien el uso de Monkop por ejemplo.
El pago es interesante, pero el limitante es que el Tester debe estar localizado en Paraguay. Salvo éste último punto, es interesante como proyecto.
Leave a Reply