Soak Testing y el debate por whatsapp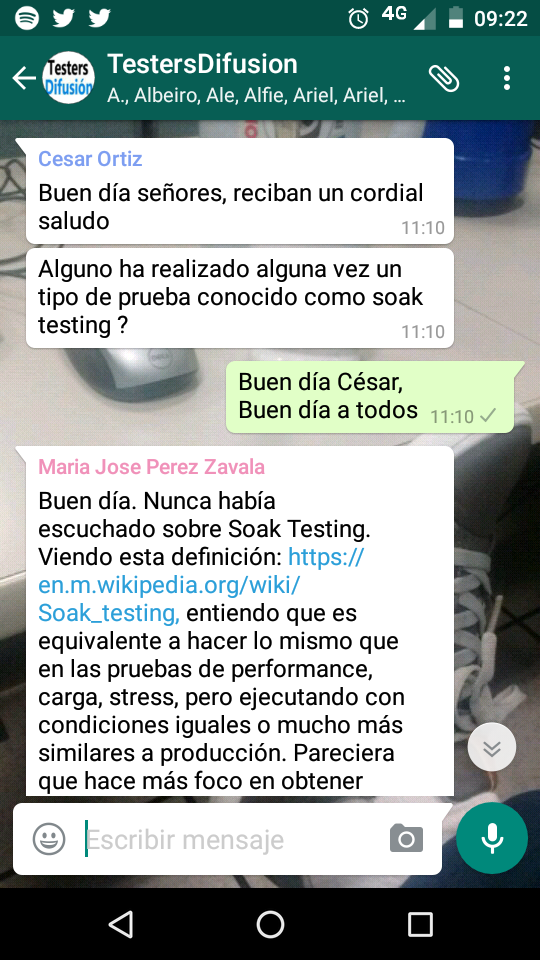 Soak Testing ha sido el motivo de un debate que ayer se generó en nuestro grupo de Whatsapp (al cual estás invitado a ser miembro, por supuesto) entre dos de sus miembros más activos, aquí la "charla".
Cesar:
Alguno ha realizado alguna vez un tipo de prueba conocido como soak testing ?
Majo:
Buen día. Nunca había escuchado sobre Soak Testing.
Viendo esta definición: https://en.m.wikipedia.org/wiki/Soak_testing, entiendo que es equivalente a hacer lo mismo que en las pruebas de performance, carga, stress, pero ejecutando con condiciones iguales o mucho más similares a producción.
Pareciera que hace más foco en obtener resultados más reales, esta bueno el ejemplo de los picos de uso y como impacta en la memoria.
Puede ser útil para entender la degradación de la respuesta de un producto/sistema bajo condiciones reales de uso.
Inicialmente, te diría que se pueden aplicar loa mismos conceptos, prácticas, herramientas que se usan en pruebas de performance, carga, stress.
Sólo cambian los parámetros y tiempos de prueba.
Contenido de utilidad lo podemos encontrar en el siguiente sitio (uno de mis preferidos, por cierto):
http://www.guru99.com/soak-testing.html
algunos de los aspectos que se tratan aqui:
What is Soak Testing?
Why to do Soak Testing?
When to do Soak Testing?
Soak Testing Strategy
Characteristics of Soak Testing
EXAMPLES of Soak Testing
Common issues observed during Soak Testing
---
¿Alguna experiencia que quieras contarnos?
¿Sabías acerca de ésta práctica?
Deja por favor tu comentario, nos ayudará y podrás colaborar con la Comunidad de Probadores de Software,
muchas gracias
Leave a Reply