Crowdar nuevo Sponsor Gold del Argentesting
Crowdar es el nuevo Sponsor Gold del Argentesting. Muchas gracias por confiar este año nuevamente en nosotros, y apoyar a la Comunidad de Software Testers!
CrowdAr ayuda a equipos de desarrollo a aumentar la cobertura de testing y mejorar la calidad del software a través de servicios de crowdsourced testing con su propia
red de profesionales calificados utilizando metodologías ágiles.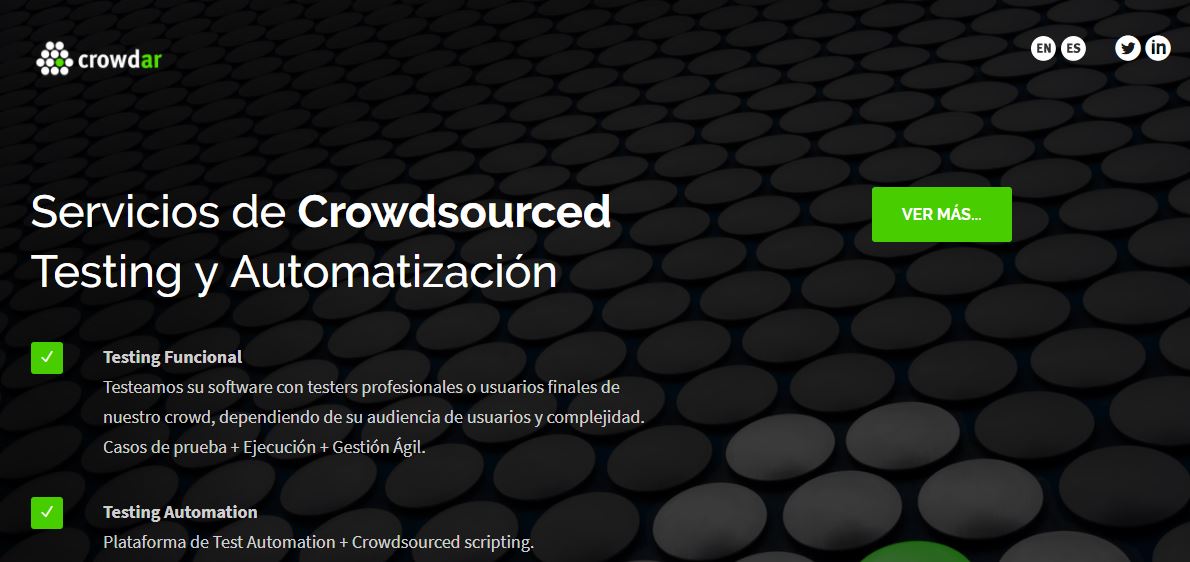 Crowdar y sus Soluciones
● Reducción de costos en test de regresión con Automatización
● Acelarar el time to market de nuevos productos
● Enfocar su equipo de QA en nuevos productos
● Lanzamiento de productos al mercado con calidad profesional
Para sus prácticas en QA siguen los siguientes estándares internacionales de Calidad de Software:
○ SEI – Software Engineering Institute
○ EOQ-SG – European Organization for Quality – Software Group,
○ American Society for Quality – American Society for Quality
○ Association for Software Testing
○ QAI Global Institute
○ SPIN – Software Process Improvement Network,
○ Society for Software Quality
Mencionados por
Market Guide for
Crowdsourced Application
Testing Services 2015, 2016
Acceso
Uncover Unexpected App
Insights Through The Crowd 2016
Acceso
Soluciones para cada segmento
Empresas
Ahorros en QA de Soft
Mejora en Time to Market
● Test Automation
● Test Funcional
● Test de Seguridad
Startups
Acceso a Calidad de Software a precios accesibles
● Test exploratorio
● Stress Test
Universidades
Crowd → Estudiantes part-time
● Entrenamiento
● Primer empleo en IT
Contacto
UK: +44 116 318 4002
Argentina: +54 911 3150 1702
info@crowdaronline.com

Blog
---
Gracias por seguirnos y si encuentras algún defecto, por favor envíanos la evidencia a: info@testingbaires.com
Newsletter
¿Quieres suscribirte a nuestro Newsletter y recibir las noticias acerca de nuestra actividad? Ingresa al siguiente enlace y completa el formulario.
Leave a Reply