Notepad++ 7.7.1. – Mejoras, bugs corregidos y otros editores
La versión del Notepad++ 7.7.1. trae varias mejoras y bugs corregidos, y para los que usan este simple pero efectivo software, les interesará conocer éstas novedades.
Sin lugar a dudas, actualmente este tipo de software nos es de muchísima utilidad, para diversas tareas que realizamos a diario.
¿No te parece?
Por ese motivo me dediqué algunos minutos para publicar las novedades de la última versión del 20 de Junio, y además, mostrarte otros editores.
Notepad
Notepad++ v7.7.1 enhancements and bug-fixes:
Fix drag and drop tab regression: dragging tab is switched to another tab issue.
Fix an input regression: Cyrillic, Turkish and other languages input issue in ANSI mode.
Fix an ASP regression: VB looses syntax highlighting in ASP document.
Fix Reload dialog displaying issue during File Monitoring.
Fix "unhide lines" markers disappears issue.
Fix Plugin menu is not localized issue if no plugin installed.
Add "Copy File Name" command in context menu of "Folder as Workspace".
Fix crash while sorting lines with numbers longer than 20 digits.
Enable Scintilla Virtual Space Option change from macro.
Add Tcl, CMake and AutoIt keywords; add Python and SQL new syntax highlighting cathegories.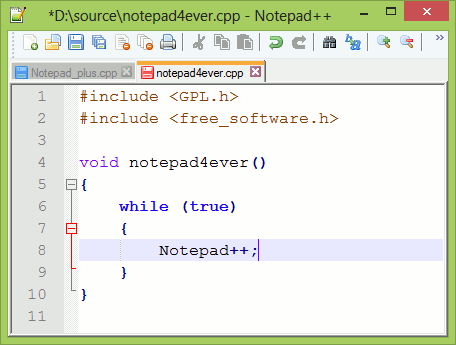 Otros Editores
Atom
Atom, herramienta muy útil para la edición de código, con una interfaz simple.
Más info

Emacs
Emacs es una herramienta de edición de texto basada en Unix.
Más info

NetBeans
NetBeans es una herramienta de código abierto para desarrollar con Java, PHP, C ++ y otros lenguajes de programación.
Más info

jEdit
jEdit, un programa editor de código que está escrito en Java.
Más info

Geany
Geany es un editor de texto que utiliza el kit de herramientas GTK +.
Más info

TextMate
TextMate es un editor de texto plano versátil para mac con características únicas e innovadoras.
Más info

VIM
Vim es una herramienta de código abierto avanzado que también se considera un IDE a su manera.
Más info

Light Table
Light Table es una herramienta IDE y editor de texto para el desarrollo de software.
Más info

Brackets
Brackets es una herramienta ligera desarrollada por Adobe.
Más info

Bluefish
Bluefish es un editor multiplataforma que puede manejar docenas de archivos simultáneamente.
Más info

Fuente:
Guru99