Distributed Testing Teams por Alfonsina Morgavi
Distributed Testing Teams es uno de los capítulos que forman parte del libro The Future of Software Quality Assurance (Stephan Goericke).
La autora del capítulo es Alfonsina Morgavi.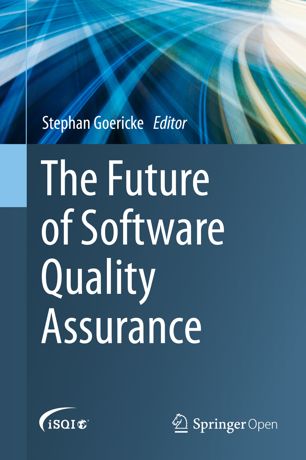 Alfonsina Morgavi
Co-founder at QActions System S.R.L.
Sobre su capítulo
Distributed Testing Teams
The Challenge of Working with Distributed Testing Teams and Performing a High-Quality Work
Nota: Se puede bajar el capítulo gratis en formato pdf
Contenido de su capitulo
Introduction
Selection of an Offshore Team
About Training
Define How Communication Will Be
How to Maximize Productivity of the Offshore Team?

About Requirements
How to Design Test Cases
About Test Execution
About Tools

Retrospective
Some conclusions
Sobre este libro
Introducción
Este libro de acceso abierto, publicado para conmemorar el 15 aniversario del Instituto Internacional de Calidad del Software (iSQI), tiene como objetivo elevar el perfil de los testers de software y su profesión.
Reúne contribuciones de respetados expertos en pruebas de software para resaltar el estado del arte, así como los desafíos y tendencias futuras.
Además, cubre las tecnologías actuales y emergentes como la automatización de pruebas, DevOps y las metodologías de inteligencia artificial utilizadas para las pruebas de software, antes de mirar hacia el futuro.

Los autores que contribuyen responden preguntas como: "¿Cómo está cambiando actualmente la profesión de probador? ¿Para qué deben prepararse los probadores en los años venideros, y qué habilidades necesitará la próxima generación? ¿Qué oportunidades están disponibles para una mayor capacitación hoy? parece en un mundo ágil que está centrado en el usuario y de ritmo rápido? ¿Qué tareas quedarán para los evaluadores una vez que los procesos más importantes estén automatizados? "
iSQI se ha centrado en la educación y certificación de testers de software durante quince años, y en el proceso ha contribuido a mejorar la calidad del software en muchas áreas.
Los documentos reunidos aquí reflejan claramente las numerosas formas en que el aseguramiento de la calidad del software puede desempeñar un papel fundamental en diversas áreas.
En consecuencia, el libro será de interés tanto para los probadores de software profesionales como para los gerentes que trabajan en pruebas de software o aseguramiento de la calidad del software.