ELECTA LIVE LMS – Mapa Mental
VIRTUAL CLASSROOM SOFTWARE, Online Teaching & Training Software, fué un software que en su momento utilicé y me sirvió, después por ciertas cuestiones que no vienen al caso mencionar, le dí de baja.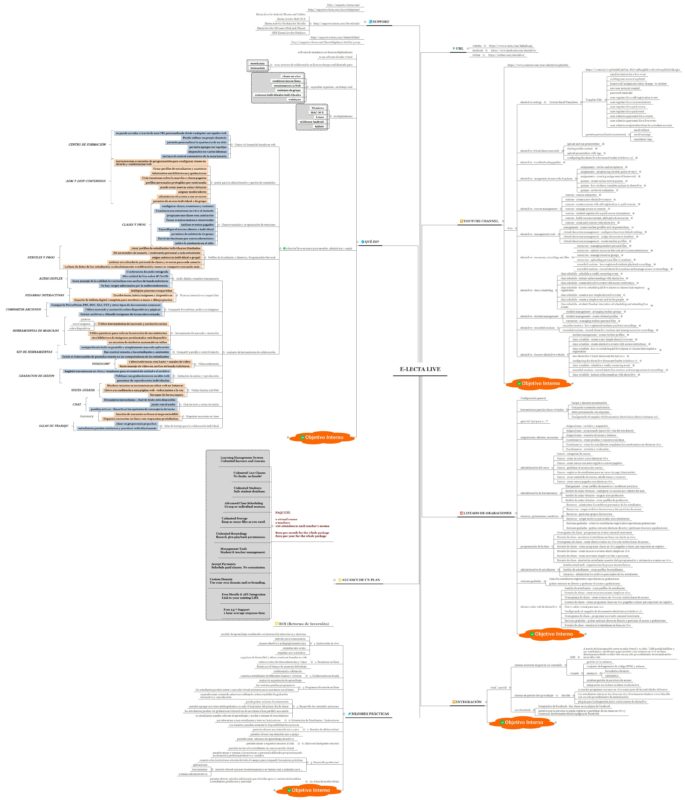 ELECTA LIVE LMS
ELECTA LIVE LMS es una herramienta que sirve para gestionar cursos online y de una forma muy interactiva. Provee de una serie de funcionalidades que dependiendo de la cantidad de instructores que desees que interactuen con la herramienta y entre ellos (y otros aspectos), así será su costo.
A continuación, te muestro el listado principal de sus aspectos más importantes que se encuentran en su área Trials & Pricing.
Learning Management System (LMS), Course Builders, Self-Paced
Courses, Assignments & Homework, Resource Libraries
Student Management & Student Profiles
Live Classes and Online Meetings
Advanced Collaboration Tools
Class Scheduling Tools, Recurring Classes
Session Recordings & Playback
Storage for Libraries & Recordings
Individual Class Access & Playback Control
Advanced Student Grouping and Access Control
Accept Payments from Students, No fees paid to us.
HTML, Advanced API & Moodle Integration
Co-Branding & Custom Domain
24/7 Free Unlimited Support
Number of Teacher Profiles
Attendees (per live class)
Package Price per Month
Si llegaras a necesitar algo más que te cuente sobre la herramienta, contactate conmigo desde LinkedIn.
Muchas gracias por seguirme