Open to job opportunities en LinkedIn ¿Para qué nos sirve?
¿Para qué nos sirve editar/actualizar la sección "Open to job opportunities? en LinkedIn
Principalmente para aparecer en las búsquedas de reclutadores que podrán ver tu perfil y entender cuál es tu interés.
LinkedIn
Antes de confirmar la actualización y de acuerdo a una indicación, hay ciertos datos que no se muestran a los reclutadores de tu empresa, aunque no garantizan una privacidad completa como te podrás imaginar.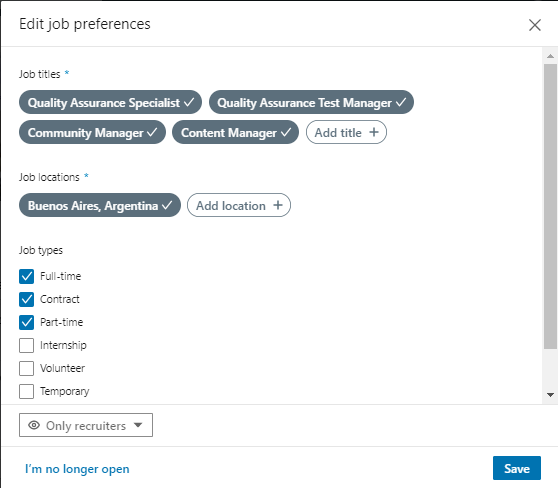 Por último, luego de la confirmación te llegará un correo para avisarte de la novedad con la posibilidad de su gestión posterior.
¿Te interesa el tema? ¿Ha sido de utilidad éste artículo? Comunicate conmigo por privado en LinkedIn.