Mediante esta opción, TestLink permite configurar la integración con otra herramienta del tipo Issue Tracker para poder gestionar los defectos que se detecten, ofreciendo varias posibilidades: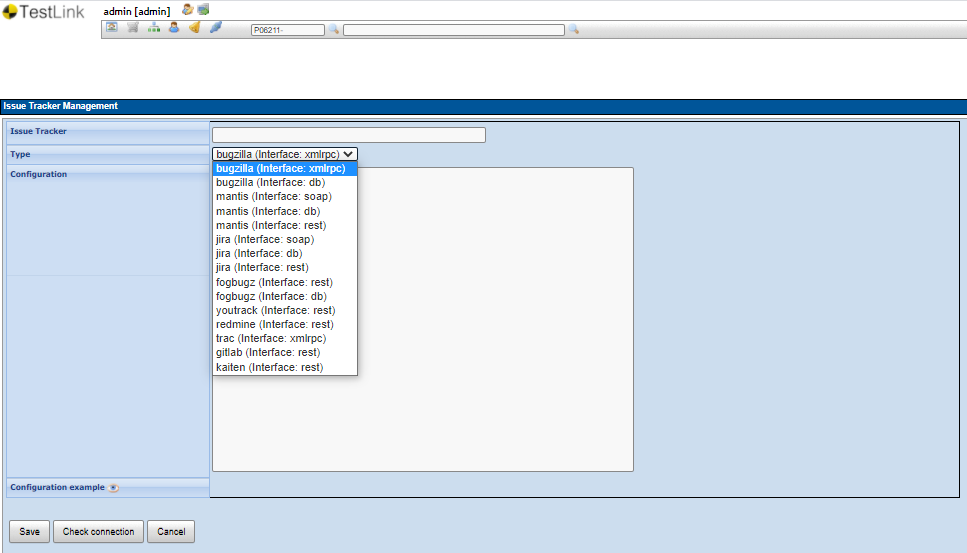 La lista muestra los distintos tipos de herramientas que tenemos a nuestra disposición, entre ellas: bugzilla, mantis, jira, otros.
También ofrece la posibilidad de ver un ejemplo de Configuración:
<!– Template bugzillaxmlrpcInterface –>
<issuetracker>
<username>USERNAME</username>
<password>PASSWORD</password>
<uribase>http://bugzilla.mozilla.org/</uribase>
<!– In order to create issues from TestLink, you need to provide this MANDATORY info –>
<product>BUGZILLA PRODUCT</product>
<component>BUGZILLA PRODUCT</component>
<!– This can be adjusted according Bugzilla installation. –>
<!– COMMENTED SECTION
There are defaults defined in bugzillaxmlrpcInterface.class.php.
<version>unspecified</version>
<severity>Trivial</severity>
<op_sys>All</op_sys>
<priority>Normal</priority>
<platform>All</platform> –>
</issuetracker>

El botón Check connection es de mucha utilidad como te podrás imaginar ya que es la forma de comprobar que la integración se ha configurado correctamente.
Con esta opción podemos gestionar los defectos que vayamos identificando ya que habiendo configurado la integración entre TestLink y alguna de las herramientas en la lista, se facilita la manera de reportar el 'defecto' evitando los envíos de correos electrónicos o cargando los datos en otra herramienta. Además al estar las herramientas integradas, también facilitamos la gestión de la trazabilidad. 
TestLink no tiene las pantallas ni la gestión suficiente para el tratamiento de defectos como tiene las herramientas citadas, de ahí a la opción de integración.